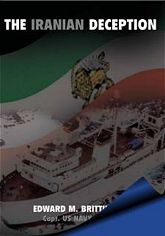 Paperback: 208 Pages
Publisher: ASW Press; (January 2006)
ISBN: 0-9727859-3-0


A dark conspiracy stretches halfway around the world, putting national security at risk as two military men fight for control of the latest technology in global weaponry.

John Clinton Chartier, II, the son of one of the world's top armament engineers, has followed in his father's footsteps. He is contracted to develop what will be the most technologically-advanced weapon ever - especially designed for the U. S. Navy.

Bandar, Abbis, an iranian immigrant, is a Harvard-educated scientist with high-level military security clearance and access to the nation's most sophisticated weapons. When the opportunity arises, loyalties to his homeland find him joining fellow Iranians in a sinister plot to steal the new weapon.

Soon both men are engaged in a fierce battle for possession of the classified weapon that could change the course of history.

A WINNER! ANother nail-biting, action-packed techno-thriller by one of the best in the business. The book is full of rich characters and hair-pin plot twists. DON'T MISS IT! - Rear Admiral Dan Wolkensdorfer, USN (Ret).

THE MASTER IS BACK! Captain Brittingham's knowledge of weaponry and espionage techniques is phenomenal. - Rear Admiral William Pendley, USN (Ret).

BRILLIANT! A pulse-pounding thriller that also offers a revealing look into the culture of our military personnel and their contractors who develop our nation's secret arsenal. - Captain Richard Michaux, USN (Ret).